MIDDLETOWN, CALIFORNIA | After building golf courses all over the world as an associate of Bill Coore, Ben Crenshaw and Tom Doak and crafting several layouts of his own, James Duncan has taken on a different role in his latest project, a golf club in the Northern Californian wine country called Brambles. That would be as impresario. For the past decade, Duncan has been making a longstanding dream of creating an association that embodies what he loves most about the royal and ancient game come true. As for designing the golf course, he is leaving that task this time around to his friends, Coore and Crenshaw. And the expectation is that with just a few more greens needing to be grassed, preview play will commence sometime next year.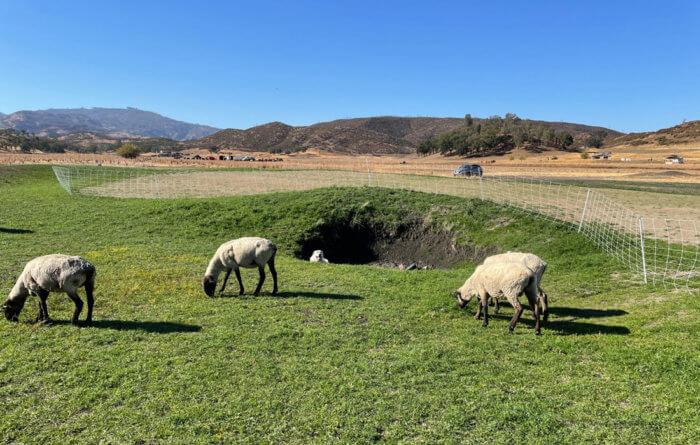 Duncan's latest job comes with significant responsibilities, to be sure, and it requires pondering such big-picture issues as the ethos he and his partners want to nurture at Brambles while also sorting out how many feet of irrigation pipe to order and what kind of feed to buy for the sheep that roam the property. But he says he is enjoying the process, and not really missing the days when he spent much of his time poring over topographical maps and organizing projects for clients.
"What I am doing at Brambles is as rewarding if not more rewarding than anything I have ever done in course design," said Duncan, a lanky, fair-skinned man of Scottish and Danish descent who grew up near Viborg in Jutland. "We are trying to create a special place where people enjoy the golf, enjoy each other and really enjoy being here."
 "James and his partners want to establish a very low-key, very Old-World type of club that is dedicated to golf. … It reminds me so much of Sand Hills when Ben and I started there." – Bill Coore
"If I had to pick one word to describe Brambles, it would be unpretentious," added Duncan, who picked up the game as a teenager after inheriting a set of clubs from his Scottish grandfather. "It's not trying to be fancy but rather a simple place for golf and for golfers, and a place where you just want to drop a ball on the ground and start playing. It's a members club, but we will also welcome their guests, even if they are unaccompanied."
Coore clearly understands the intentions. "James and his partners want to establish a very low-key, very Old-World type of club that is dedicated to golf," he said. "And they want a course that is very compatible with the site on which it is being built as well as being complementary to and representative of the community where it is located. It reminds me so much of Sand Hills when Ben and I started there."
Duncan says he first conceived of Brambles a decade or so ago. "The question was, what would we build if we ever had the chance to build something from scratch," explained the man who first fell for course architecture after reading a book by Dr. Alister MacKenzie that his sister had given him when he was a youngster. "Where would we do it? What kind of course would we construct and what would it look like? And who should be involved?"
Duncan answered that first question when he and his partners – Eric Berridge, Chis Hauswirth and Greg Kaplan – purchased 660 acres in the Lake County town of Middletown, which lies some 17 miles north of the small Napa County city of Calistoga. They liked the scale of the well-contoured land, much of which spread across a valley floor, and the panoramas it offered of the surrounding hills. They were also enamored with the wind that often blew across the property. And they came to believe it was the perfect place for the track they envisioned, a very walkable, heathland-style course with an out-and-back routing.
(Click on images below to enlarge and for caption information.)
The partners also like that the permitting process was far less onerous in Lake County than it was in neighboring Napa.
As for engaging an architect, Duncan turned to his former colleagues, Coore and Crenshaw. He well knew of their deft design skills and the value they placed on strategy and decision-making in their course creations. And he appreciated how quickly and completely they grasped what he and his partners were attempting to produce here.
"Even though we were in California, we nonetheless wanted to employ a lot of the principles of golf from traditional British Isles courses," Coore explained. "We wanted this to be a place where you could run shots onto the greens, and where you had to deal with wind in a variety of ways. We wanted it to be a shot-maker's course with a modest number of bunkers, one that gave golfers very different ways to play the holes, depending on their skills and awareness."
Unanimous planning approvals were granted on April 9, 2020, which also happened to be Seve Ballesteros' birthday and what ordinarily would have been the first round of the Masters, just as the pandemic was pushing the U.S. and the rest of the world into lockdown. Progress was understandably slow at times. But that gave Duncan and his team the opportunity to contemplate even more deeply the retreat they was fashioning.
"Somewhat surprisingly, I was able to let things go design-wise, and let Bill and Ben do their usual great work," said Duncan, who took time off while in college in Copenhagen to work on a golf course in Aberdeen, Scotland and study at the Department of Landscape Architecture at Cornell University. "And that enabled me to concentrate on all the other aspects of the project."
Such as the small and simple clubhouse. Just 3,000 square feet in size and called the Milking Parlor (as a nod to the dairy barn in nearby Kelseyville, after which it is modeled), it will feature a double-sided fireplace, an L-shaped bar and a lime white stucco exterior that pays homage to the clubhouses at Muirfield and Royal Aberdeen. Both the 1st tee and 18th green will be steps away from the terrace that will eventually stretch along that side of the building.
Duncan says there will be lodging on site, likely in the form of cabins. And in his view, those pretty much negate the need for a locker room, though there will be places in the Milking Parlor for golfers to change before or after rounds, and to shower. There will also be food and drink, though he is loath to go into specifics at the moment.
"We will figure it out," he said as he stood on the gentle promontory on which the clubhouse is built and watched a couple of backhoes dig out bunkers in the distance. "I have come to believe that you only make the decisions you have to make when you are dealing with an endeavor of this size and scope, and that you need to let the other things happen and reveal themselves as you go."
One early decision was to plant Zoysia grass tee through green, largely because it requires less maintenance, and less water and fewer chemicals, than, say, Bermuda and bent.
Duncan is not sure exactly what the final yardage will be but expects the course to measure out most days in the 6,500-yard range. "We'll be able to stretch it out if we want," he said. "But with the breezes that blow here as well as the slopes and the types of holes we have, the last thing we want to do is make it too long."
There are also plans to construct a practice range, a short course and also a putting green.
One thing Duncan is sure of is that there will be no set par. "Seriously, how does par benefit golf and golfers psychologically?" he asked. "I'd love to hear an argument for that. As best as I can figure, par only serves to discourage people who are unable to shoot it."
As for tee markers, Brambles (which, by the way, has bramble bushes growing in and along a creek that runs through the property) will employ them. "They are part of the choreography of any golf course," Duncan explained.
As for when Brambles will formally open, Duncan has no interest in circling a date for that. "We'll play some golf here this fall," he said. "Members are already coming up to check it out. We'll be playing golf next summer as well. It's a club, so there's no need for a big ribbon-cutting ceremony.
"We're a work in progress," he said. "And progress is being made."
It should be quite a place.
© 2021 Global Golf Post LLC
We are sorry that this post was not useful for you!
Tell us how we can improve this post?